To Join TARA

Complete the Membership Form and mail it with a check for your dues to: TARA. PO Box 1292, Troy, NY 12181-1292 or bring to any meeting.
The Troy Amateur Radio Association meets at the Green Island Municipal Center, located on George Street (Just north of the Green Island Bridge at the V in the road - see maps below), on the third Tuesday of each month, except July and August, when we have a club picnic in Hudson Shores Park. There is plenty of off street parking available on the Hudson Avenue side of the meeting hall. Also, this building is handicapped accessible and special handicapped parking is available for those needing such. Monthly meetings start at 6:30 PM and guests are ALWAYS welcome to attend. TARA has been affiliated with the ARRL since 1991 and in October of 2000 we became a Special Service Club.
TARA is dedicated to providing new HAMS with a place to meet other HAMS as they get started in amateur radio. Most meetings start out with the typical business meeting followed by a "social hour" with refreshments, thus giving everyone a chance to get acquainted. Along with AARA (Albany Amateur Radio Association), TARA provides examinations for prospective HAMS, as well as upgrade exams for existing HAMS.
Get Involved. No matter what your interests are: DX, Contesting, Rag-chewing, Public Service , Volunteer Examiner, Instructor, Repeaters, Packet, RTTY, PSK31, SSTV, AMTOR, CW, SSB, HF, VHF, UHF, or just plain operating, someone in TARA has done it and is there to help you.
Green Island Map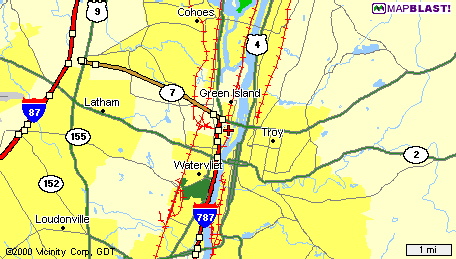 George St and Hudson Ave. Map